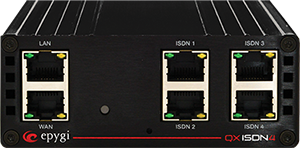 Product Overview
The QXISDN4 Gateway is similar to the FXO version but connects using four ISDN ports. These can be configured for NT or TE mode. The QXISDN4 gateway is ideal to convert legacy ISDN PBX devices to IP to extend the life of these devices at an excellent price point. The QXISDN4 gateway can be converted to a full PBX by installing the PBX conversion license providing a migration path to the legacy PBX. Thus, there is no need to replace the gateway with an IP PBX.
Each QXISDN4 is a stand-alone, SIP gateway device that includes a VPN router, firewall, HTTP server and call processing software. Installation requires very little configuration. For example, a QX IP PBX will automatically present the new ISDN ports within its management system.
Key Facts
ISDN BRI ports
4
Ethernet LAN port
1
Ethernet WAN port
1
Call Routing capable of modifying caller ID or time of day routing
Firewall, VPN Router, Auto Attendant, Stacking Options, Failover
All products are guaranteed a One Year Warranty and a Two Year Warranty for European Union customers. An additional Three Year Warranty is available for purchase. Click here for more information about our product support and warranties.
NOTE: Customers can still purchase licenses for older Quadro products that are no longer available for sale.
Licensable Features for Your QX Gateway
The following is a list of advanced features that can be purchased as licensable items for your QX Gateway product. By offering licensable features, Epygi gives you the ability to choose what you pay for instead of being locked into a one-size-fits-all solution. These enhanced features can be added at any time during or after your Gateway purchase.
Gateway Hosted Survivability

The Gateway Hosted Survivability feature allows your company's telephones to work, even when the broadband link or Hosted PBX are down. Users can also use this feature to provide access to remote phones in a branch office

QXISDN+ IP PBX Activation

The QXISDN4+ activation license key is available to purchase for the QXISDN4. Once the QXISDN4+ activation license key has been installed and activated, the Gateway will function as an IP PBX and cannot be changed back. The QXISDN4+ can support 16 IP phones by default and all the applicable QX50 features that can be purchased and activated, except for Automatic Call Distribution (ACD) and Epygi ACD Console (EAC). The QXISDN4+ doesn't support Audio In, Audio Out and a SD card.