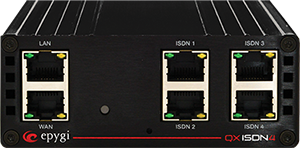 Product Overview
The QXIDN4+ IP PBX is a full-featured IP PBX and is designed for offices with as many as 48 users. The QXIDN4+ can support up to 48 IP devices and 16 concurrent calls. SIP trunking allows for the QXIDN4+ to connect directly to an ITSP with no additional equipment. The QXIDN4+ includes a firewall and SIP Intrusion Detection for optimal security.
The QXISDN4+ activation license key is available to purchase for the QXISDN4. Once the activation license key has been installed and activated, the Gateway will function as an IP PBX and cannot be changed back. The QXISDN4+ doesn't support Audio In, Audio Out and an SD card.
Key Facts

Interconnection with  QX Gateways

| | |
| --- | --- |
| IP phones | 16 |
| Additional IP phones with keys | 32 |
| Total phones | 48 |
| Concurrent calls | 16 |
| ISDN BRI ports | 4 |
| Ethernet LAN port (10/100/1000) | 1 |
| Ethernet WAN port (10/100/1000) | 1 |

| GATEWAYS | Recommended Number (max) |
| --- | --- |
| QXFXO4 | 4 |
| QXISDN4 | 2 |
| QXE1T1 | 1 |
| QXFXS24 | 2 |
All products are guaranteed a One Year Warranty and a Two Year Warranty for European Union customers. An additional Three Year Warranty is available for purchase. Click here for more information about our product support and warranties.
NOTE: Customers can still purchase licenses for older Quadro products that are no longer available for sale.
Features Included with Your QX IP PBX
The following is the list for group of features available for free on your QX IP PBX product.
Licensable Features for Your QX IP PBX
The following is a list of advanced features that can be purchased as licensable items for your QX IP PBX product. By offering licensable features, Epygi gives you the ability to choose what you pay for instead of being locked into a one-size-fits-all solution. These enhanced features can be added at any time during or after your IP PBX purchase.
IP Phone Expansion Key

This phone expansion key enables up to 1, 4, 8, 16 or 32 additional local IP phone extensions on the QXISDN4+. These additional key purchases can bring your unit to a maximum of 48 total IP extensions.

Epygi Hotel Console (EHC)

The EHC is a licensable hotel application complementary to the QX IP PBX line of products from Epygi. Provides telephone control and billing of telephone calls for hotel rooms, as well as supplementary functions such as room status, wake up calls, do not disturb and management of minibar items. Attention: EHC expires and will need to be renewed annually.

Barge-In

Three unique features are enabled when the Barge-In license is activated. Silent Monitoring, Agent Whisper and Supervisor Barge-In are made available as enhanced features for authorized users on the IP PBX.

Silent Monitoring: Supervisors are able to listen in on calls by dialing *91+extension number with no audible notification to the user or incoming caller.
Whisper Mode: Supervisors are able to listen in on calls and advise users on what to say to the external caller. Supervisor's comments are only heard by the Agent. The Supervisor can activate Whisper Mode by dialing *92+extension number. The user dialed will hear an audible tone to notify them that their Supervisor has joined the call.
Supervisor Barge-In: ACD Supervisors are able to join established calls and have three-way calls by dialing *93+extension number. All call participants will hear an audible tone to notify that another party has joined the call.

Auto Dialer Activation

Automate outbound calls directly to clients. The messages played to the clients can be pre-recorded and updated regularly.

Auto Dialer Expansion Key

Increases the number of concurrent outbound calls by one on the Auto Dialer Activation.

Call Recording

Call Recording is used to record all types of calls on the QX and store the recordings either locally on the QX by using internal memory or on an external server. The QXISDN4+ can support up to 12 ports of simultaneously recorded calls. The recording will start automatically as soon as the call is established or it will be activated manually on the phone during the active call.

Audio Conference Bridge

Audio Conference Bridge is an integrated conferencing feature that allows your company to stay connected and current around the globe. The QXISDN4+ can have a maximum of 16 audio conferencing ports with purchasable feature keys. The number of available ports determines how many active users can be on the individual conference bridge at one time.

Video Conference Bridge

Audio conferencing has always been the method for group communication, especially for remote users. Today, video is more affordable and offers an additional return on investment when addressing remote communication needs. The ability to visually describe something, or determine moods and gestures, greatly increases the effectiveness of remote communication. This feature is available after activating the appropriate feature key, in addition to purchasing the Audio Conferencing license. On the QXISDN4+, two user licenses can be purchased for a total of 8 video conference participants in all active conferences. The maximum total number of video and audio participants in all active conferences is 16.

3PCC Activation License

The QX PBX family has a full-featured Application Programming Interface (API). With this feature, applications can be designed to gain direct access to the IP phone system to enhance the feature offerings of this system.

eQall Softphone

The eQall is Epygi softphone available for Microsoft Windows and for mobile devices using Android. It is a full desk phone replacement and is intended to be used only with QX PBX appliances and Epygi ecQX. After activating the license key it registers as an extension to the QX/ecQX system and operates like a normal PBX extension without the need for a desk SIP phone.

eQall SMS Messaging

The feature allows an eQall, registered on the QX's IP line, to send and receive messages via the mobile carriers' Short Messaging Service. It uses two types of licenses. The first one, eQall SMS, allows to enable the feature on the selected QX extensions. The second license, SMS Account, allows to refill the SMS Account on the QX unit. The credits on the SMS Account can be used by any eQall extension with the enabled messaging feature.

CRM Integration

Customer Relationship Management (CRM) integration allows users to automatically view, create and update the information for CRM contacts upon receiving inbound calls from customers on the IP PBX. When activated on its QX and UC line of IP PBXs, the per-seat license will provide integration with Salesforce and Vtiger CRM.

Server System Redundancy Activation

The QXISDN4+ has the ability to be in a 1+1 redundancy design where a second unit is running as an active standby unit. The primary QXISDN4+ will need to have all of the required software licenses enabled. The secondary standby QXISDN4+ will also need all duplicate software licenses enabled, which will be included with the purchase of the System Redundancy Activation key.